4 Essential Steps to Take When Selling Your Manhattan Beach Home
Posted by Greg Geilman Blogger on Friday, January 8, 2016 at 7:07 AM
By Greg Geilman Blogger / January 8, 2016
Comment
Selling a home can be a headache and goes far beyond just hiring the right listing agent. There are steps every home seller can take to be successful in today's super competitive Manhattan Beach real estate market, ensuring you get the price you want in the timeframe you need. And with inventory around the Manhattan Beach area still tight and mortgage rates expected to rise sometime in the near future, many home buyers will spend the first part of 2016 scrambling to find a new home before housing costs get more expensive, making it critical for any and all home sellers to be ready for what should be a busy start to the new year.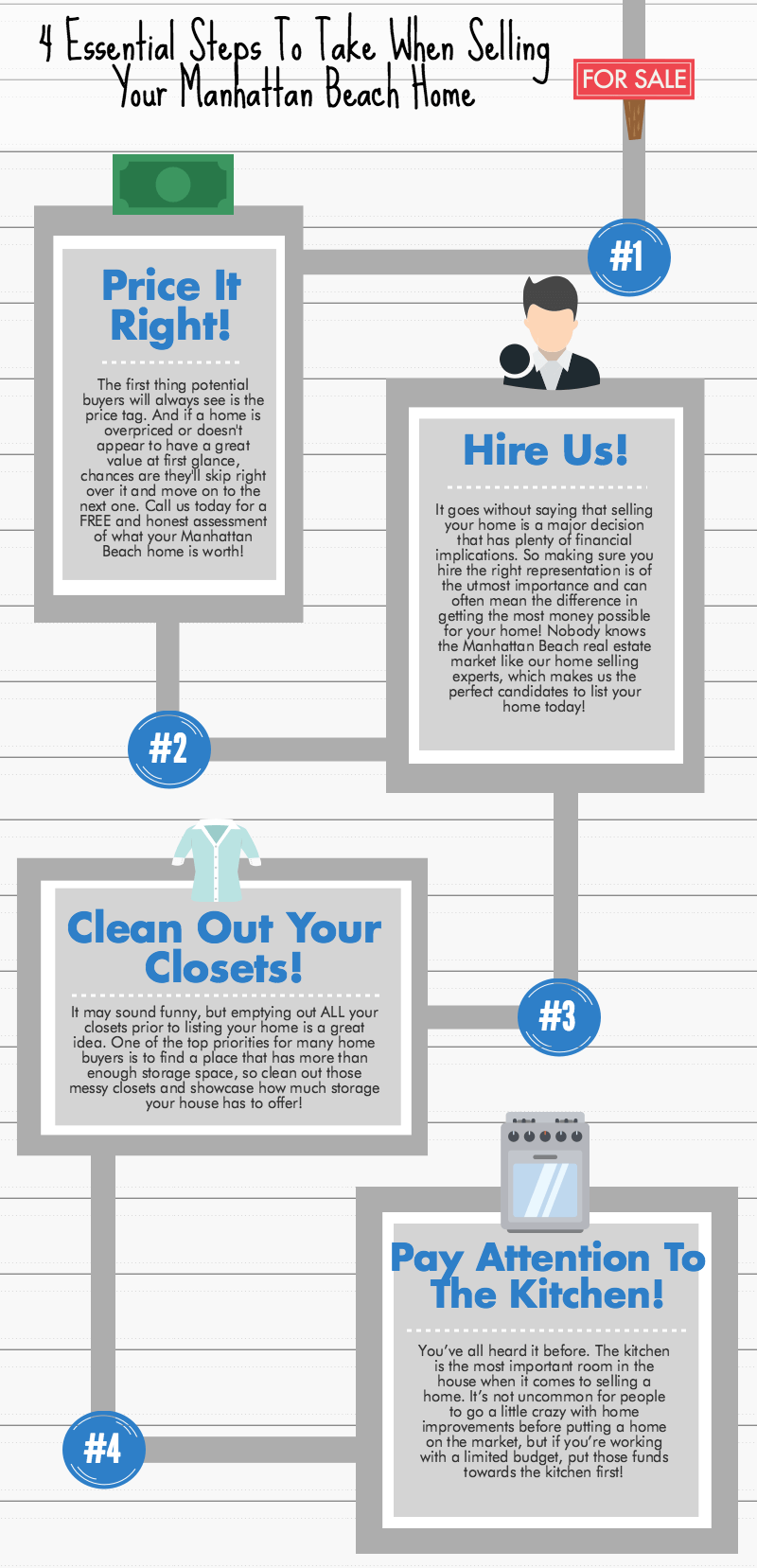 Thinking of selling your Manhattan Beach home in 2016? Although there are many different steps you can take to ensure your home sells, here's a look at 4 of the most essential steps you can take during the home selling process:
Step #1: Price Your Home Right From The Beginning
It sounds easy enough but all too often home sellers demand a certain price that's above market value, ultimately leaving their home on the market longer than expected, or worse, not being able to sell it at all. Hire an experienced Manhattan Beach real estate professional who not only has adequate sales skills to get the job done, but also someone who knows the market and understands how to price a home right.
Step #2: Hire Us To Get The Job Done
As both residents and experienced real estate professionals in the area, there's nobody more qualified to represent you during the home selling process than us. Whether you're an experienced home seller or selling your Manhattan Beach home for the first time, we'll be there every step of the way and negotiate the best possible price, making sure you get every last dollar your home commands!
Step #3: Clean Out Your Closets
This may seem a bit particular but closet space is a big deal to home buyers. Emptying out your closets can often give the illusion there's plenty of closet space in a home, even when it may be limited. And as a bonus, you might be able to unload a few things here or there you don't need, making your move just a little bit lighter.
Step #4: Give the Kitchen Some Love
Not everybody has the means to completely overhaul their home before putting it on the market. But if you're looking to make any improvements before selling, start with the kitchen. Updating the appliances and countertops will make a huge difference, but at the very least, give it a thorough cleaning. Trust us when we say, it'll pay off big time.