Community Spotlight: Angles & Arches In Manhattan Beach
Posted by Ani Stepanian on Friday, February 21, 2014 at 2:15 PM
By Ani Stepanian / February 21, 2014
Comment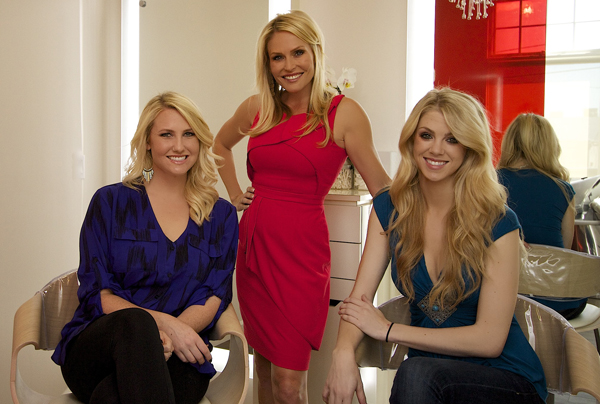 With the clutter of countless salons in the area, we wanted to sit down with a business that was doing something quite different from the rest. Angles & Arches Beauty Bar in Manhattan Beach was founded by RonAnn Myers, a makeup artist and brow architect! We sat down with her to learn a little more about what Angles & Arches is all about.
Q: How would you describe your business and what you do
A: Angles and Arches is a beauty bar focusing on eyebrow shaping and makeup application. For clients who are needing extra attention to their over-tweezed and uneven brows, we have a "Brow Rehab" program helping them reclaim the brow they deserve. Each of the staff is trained in the proper techniques for waxing, tweezing and makeup artistry.
Q: Can you explain the meaning and inspiration behind the name?
A: The story behind the name, Angles and Arches Beauty Bar, is very dear to me. Early in my career, I would travel with a hairstylist friend to Northern California once a month. We were such a good fit to the salon because eyebrows and hair go hand in hand. Our clients encouraged us to open a salon together naming it Angles and Arches. That name stuck with me over the past 5 years. When I decided to open the salon in Manhattan Beach, I called my now celebrity hairstylist friend to tell him about my idea. He was thrilled. Also, the name symbolizes the eyebrow shape. You have an "Angle" and an "Arch" to every brow we create.
Q: How did you initially get started in the beauty industry?
A: I began my career 15 years ago in Beverly Hills at a small boutique eyebrow and makeup studio. I was always passionate about makeup but didn't realize the importance of a properly shaped brow.
Q: Why did you choose to open up in Manhattan Beach?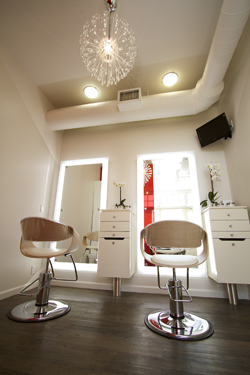 A: I have been working in Manhattan Beach for the past 6 years inside of Hush Up Hair Spa. The owner, Ric has been a huge mentor for me over the years. I brought up the idea of opening a beauty bar inside of Hush Up and he was ecstatic. I grew up in Kentucky and moved to Los Angeles 18 years ago. I am proud to say Manhattan Beach is now my home. Manhattan Beach is such a charming and family friendly community. I love how everyone has come together to support my new business adventure.
Q: Is Angles & Arches connected/giving back to the Manhattan Beach community in any way?
A: Angles and Arches is very supportive of the community in many ways. We donate to school auctions, Sandpipers, The Richland Foundation and The Children's Hospital sponsored by the Kings and Hush Hush Hair Salon. That event will be on March 1st at the Manhattan Beach Country Club.
Q: What do you love most about what you do/what motivates you?
A: There are actually two things about my job that motivate me. Seeing a client's eyebrows being recreated to the perfect shape and working on a bride on her wedding day. I take pride in giving my clients 110% of myself on that very special day of their lives.
Q: Do you guys have any special deals going on now?
A: We have a Happy Hour discounted eyebrow rate on Thursdays and Fridays fro 4-6. The price is originally $35 but Happy Hour is only $25.
Q: What's one thing you'd want everyone to know about Angles & Arches?
A: Our staff is highly trained in eyebrow shaping and makeup. We have created a friendly and comfortable atmosphere for our clients. Our artists also use a makeup technique called airbrushing. This gives a natural yet finished look to the skin that lasts all day.
Angles & Arches is located inside of Hush Up Salon in Manhattan Beach (1100 Manhattan Ave. #201).
If you know of any local Manhattan Beach businesses that you'd like to see featured, please send us an email at [email protected].