Community Spotlight: Barsha Wine & Spirits in Manhattan Beach
Posted by Ani Stepanian on Friday, February 7, 2014 at 8:04 AM
By Ani Stepanian / February 7, 2014
1 Comment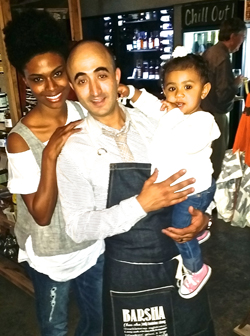 If you're from Manhattan Beach or the South Bay area in general, you've probably already heard the raving reviews about Barsha Wines & Spirits. Being unable to resist all of the buzz that seemed to surround the tasting room, we thought it was time for us to experience what Barsha was all about.
Before sitting down with one of the owners Lenora, we went in for a wine tasting experience which quickly turned into a cheese tasting, bruschetta eating and "let me see how much more wine I have room for" evening.
To say the experience was different would be the understatement of the century. Entering their shop and tasting room feels like you're walking into Lenora and Adnens home and they're your gracious hosts (Lenora and Adnen pictured to the left with their daughter Pash). The room was filled with both private parties and groups of people mingling with one another. If you're still trying to figure out how to spend your evening, this should definitely be at the top of your list!
Q: Tell me a bit about your business.
A: Barsha is your neighborhood Wine & Spirits shop that is also a Tasting Room. We love small producers and really appreciate their amazing product. Therefore, that's our niche at Barsha, small production wines, beers, spirits, cheeses & food products. We feature wines from all over the world, we also have a farm fresh menu with a hint of Tunisian influence. We aim to make your experience as personal and approachable as possible. Why does wine have to be intimidating?
Q: What's it like working as a husband and wife team? What are the greatest challenges?
A: There are definitely just as many rewards as there are challenges when it comes to being a husband and wife team. It can be difficult to know when to be husband and wife and when to be strictly business partners. But to tell you the truth, I don't think I could've found a better business partner than Adnen, my husband.
Q: Can you explain the meaning of the name Barsha?
A: Barsha is one of the few words specifically from the Tunisian dialect (where Adnen is from). In French it translates to "beaucoup." It basically mean abundance, a lot. Barsha wine, Barsha passion, Barsha love. When we were searching for the perfect name, Barsha stood out because it was deeply rooted in Adnen's roots, and for myself, it was one of the few words I remembered, and used while living in Tunisia!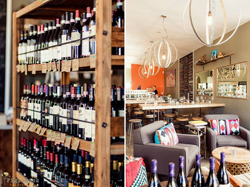 Q: How did you initially get interested in wine?
A: Adnen and I are chefs, if you have an appreciation for good food, then wine will come into the equation sooner or later. Adnen's love and passion grew right away after moving to America. His passion developed even more while serving as wine director in various locations and seeing a need to enhance the wine experience for his customers. His passion has aided in my love and appreciation for good wine!
Q: Why did you choose to open up in Manhattan Beach? What do you like most about the area?
A: Manhattan Beach is sentimental to both Adnen and I. I am actually from Hawthorne, and Manhattan Beach was always my mental escape. For Adnen, his humble American roots were established in the South Bay where he opened his first restaurant! So for both of us to come back and set up shop particularly in Manhattan Beach is truly a dream!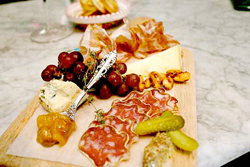 Q: We've heard about your Locals Night and love the concept. Can you tell us a bit about it and how the idea got started?
A: Well, the South Bay is such a close-knit community, but sometimes we're so into our careers, we forget that in actuality, all of our work is interconnected. If we networked more within our community we could actually take our business to another level. So Locals Night is in a way like an Industry Night. Calling it Locals Night opens it up to people of all professions and makes it a little more intimate!
Q: What do you love most about what you do/what motivates you?
A: We love the connection we have within the community. Everyone in Manhattan Beach seems interconnected through their children, organizations, and social lives. It means a lot to feel connected to a cause. We also love that we can help local non-profit organizations raise money through fundraisers hosted at Barsha!
Q: What's one thing you'd want all of our readers to know about Barsha?
A: We have a really great Wine Club! There is the Classico Club for $30 and the Riserva Club for $50. For each club, you get 2 amazing wines every month, plus you get great discounts such as 20% off in the tasting room! Adnen hand selects each and every wine after many tastings to find the perfect wine for each club. He takes great pride in knowing that he can bring another world onto your palate!
Barsha Wine and Spirits is located at 917 N Sepulveda Blvd. in Manhattan Beach.
If you know about any local business you'd like us to feature on our blog, send us a quick email! [email protected]