Manhattan Beach: Reflect on the Past, Give Meaning to the Future
Posted by Greg Geilman on Friday, December 13, 2013 at 2:17 PM
By Greg Geilman / December 13, 2013
Comment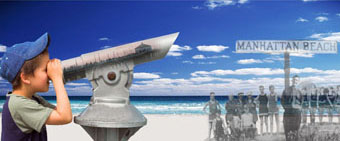 The City of Manhattan Beach recently hosted a fun event called "Reflect on the Past, Give Meaning to the Future: Continuing the Conversation." The event was centered on learning about Manhattan Beach's rich historical past as well as planning for the bright future of the city.
Manhattan Beach hosted the event for the first time in 2012 in order to give residents a forum to discuss city topics and issues they found interesting. Thanks to an outpouring of interest from the community, the city organized a second event this year in order to further the conversation about the future of Manhattan Beach. By discussing the historical journey of the city, residents are able to have a much better perspective of its growth and how they'd like the city to grow in the coming years.
There were several distinguished speakers at the event. Our very own Jan Dennis, ManhattanBeachHomes.com contributor, gave a keynote presentation on the history of Manhattan Beach. Jan is very involved within the city. Being a former Mayor, she has an unmatched love and passion for the city and its growth. Dr. Gary Hartzell also spoke at the event. Gary is a Manhattan Beach native that currently lives in the original home his parents built back in 1950. Gary's a nationally recognized expert on school libraries. He's currently Manhattan Beach's Library Commissioner.
Nancy Hersman, Esq., Russ Lesser, Steve Napolitano, John Shelton and Paul Silva also spoke at the event. All having strong ties within the community, they created a fantastic foundation for community members to understand Manhattan Beach in order to be able to have an educated discussion about how they see the city growing in the coming years. The Mayor's Youth Council was also a part of the program. The Council provides an avenue for local students to meet leaders within the community.
Audience participation is what set this event apart from several others. Residents had a chance to take part in a moderated discussion held between the distinguished speakers. We've included a video of the entire event for those that weren't able to attend. What topics would you like covered at the next event