Manhattan Beach's 25th Annual Fireworks Show
Posted by Ani Stepanian on Monday, November 25, 2013 at 3:13 PM
By Ani Stepanian / November 25, 2013
Comment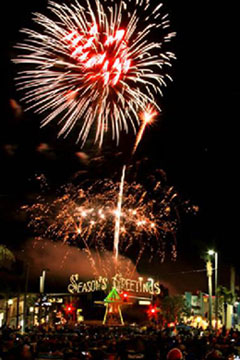 This year marks the 25th Annual Manhattan Beach Holiday Fireworks Show. For years, locals and area residents have flocked to the event that has boasted huge crowds in the past.
The fireworks show is scheduled for Sunday, December 8th. Although fireworks will be going off at 7:00pm sharp, the event starts at 3:30pm and has tons of great activities set up in Downtown Manhattan Beach. There will be performances by Hyperion Outfall and Mira Costa HS Marching Band, Jazz Ensemble, Orchestra, Choir and Cheer. There'll also be a bounce park and snow park hosted by SKECHERS.
David Prather is scheduled to host a sing-along starting at 6:00pm. If you're planning on going to the event, we suggest reading up on the "12 Days of Christmas" song and getting familiar with the lyrics!
The event is privately hosted and organized. Pete Moffett has organized the event since its inception in 1989. Local companies help sponsor the event and ensure it's held every year. Crowds are estimated to be 15,000 to 20,000 this year as notoriety for the event grows annually. The fireworks show has previously been featured on the Travel Channel where it was selected as one of the top two finalists competing for the nation's best holiday fireworks celebration.
We're excited to enjoy another great fireworks show that's due to awe locals and visitors alike, rain or shine. Are any of you planning on heading down to the fireworks show?