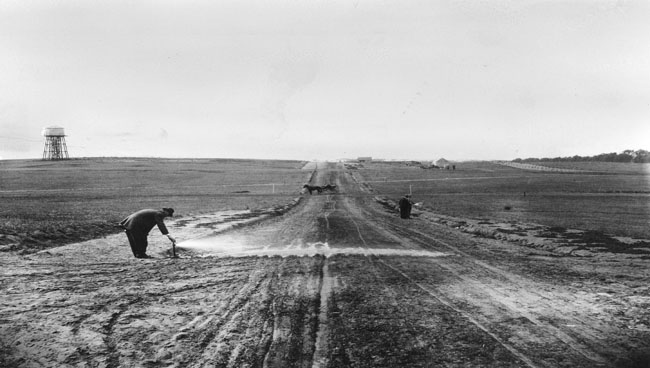 With the accessibility of Manhattan Beach, more and more people settled in town which made it evident that improvements had to be made. Prior to electricity, the Strand was lit by scattered gaslights with gas supplied by a small carbide plant located at Tenth Street and Highland Avenue. At dust fall each light was separately lit and all were extinguished around 10 p.m.
In 1906, an electric lighting system was the first achievement of the Manhattan Beach Improvement Association, the forerunner of the towns Chamber of Commerce. The Association was organized to look after the needs of the community and to boost its development. Letters were sent to the property owners suggesting the installation of electric streetlights, to burn from dusk to midnight every night in what is now the downtown area.
The first electric light tender was Bob Kuhn Jr., who was paid $3.00 per month for duties that included setting the master switch and replacing burned out bulbs. The Strand lights, like those on Center Street, were set atop wooden poles spaced about a block apart, each one holding a single Edison carbon filament bulb.
The Pacific Electric Company was awarded the contract over a lighting company, which had bid $2,000 to put in the system and operate it for one year. However, the Pacific Electric Company installed, completed and turned the system over to the Association districts for the cost of the construction. Assessment districts were formed according to how far they were from the center of town. Though this was the beginning of public utilities, most of the town remained devoid of such services.
Prior to a water system, wells and tanks served the needs of the downtown area. One well and tank...