Manhattan Beach Parks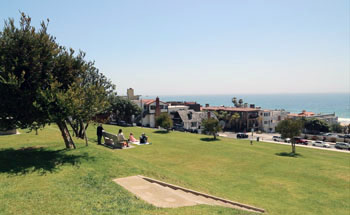 Manhattan Beach has a total of 80 acres of park space, ideal places for barbecues and play dates and people who are looking for a break from the beach. Here are some of our favorite parks in Manhattan Beach, or nearby; competitors for the 'best parks in Manhattan beach' designation, or 'top parks in Manhattan Beach.'

The city has several popular parks, plus a number of other smaller parquettes 18 athletic fields, five batting cages, 18 tennis courts, four racquetball courts, three basketball courtiers, two par courses, a jogging path, a nine-hole golf course, and a public swimming pool. There are also 50 sand volleyball courts located along the beach.
Sand Dune Park: One of Manhattan Beach's Best Parks
One of the city's most well-known and well-visited parks is Sand Dune Park, considered a top-rated Manhattan Beach park, and unique for its 100-foot-high sand dune that people can use only if they make a reservation in advance. Sand Dune is popular with joggers and fitness enthusiasts, who like to run up its sandy face, and with kids who like to slide down it for fun. The dune is such a Manhattan Beach favorite that the city had to implement a sign-up system to control the flow of visitors.
Another top-rated local park in Manhattan Beach is Polliwog Park, an expansive park with grassy hills, a sprawling duck pond, tennis courts and free outdoor concerts in the summer. It is a popular place for picnics, pick-up games of basketball, and birthday parties.
Probably the park most likely to make a list of best parks in Manhattan Beach is Live Oak Park, with its section for dogs and its community center and barbecue tables. Bruce's Beach is a park with an ocean view; Manhattan Heights Park has big trees and a community center; and 8th St. and Larsson parquettes are great places to read a book in the summer sun. In fact, it might be considered the best dog park in Manhattan Beach, California!
The gated community east of Sepulveda, Manhattan Village, has its own parks, jogging paths, and fields.
There are also two parks off Marine Avenue with athletic fields, play equipment, and picnic tables.
Other Dog Parks or Park Areas in Manhattan Beach
Leashed dogs are allowed to walk along Veterans Parkway, a park-like pathway that runs the length of the city from north to south. It spans 21 acres and features a jogging trail, benches, trees, drinking fountains, and workout stations. One of its most special attractions is Mariposa Pathway, named for the Monarch butterflies that are the indigenous inhabitants of the area. To emphasize that history, the city has installed butterfly totems among the eucalyptus trees in this section of Veterans Parkway.