Manhattan Beach CA Real Estate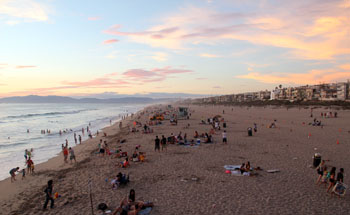 Manhattan Beach is one of the most affluent cities in the South Bay. Use this page to easily find Manhattan Beach homes for sale.
Named for the original developer's Manhattan roots, Manhattan Beach lines two miles of Southern California coast. Today, it is home to celebrities, millionaires, and some of the area's highest property values, but it's still a beach town at heart.
In this family-friendly, community-oriented city with many distinct "sections" or neighborhoods, life revolves around the beach–one of the widest in L.A. County. On any given day, people are outside, walking their dogs in the sun, riding their bikes down The Strand, or playing volleyball on the sand. (As an aside, Manhattan Beach sand is so fine that it was exported to Hawaii in the 1920s to pad the Waikiki beaches.)
People often search for Manhattan Beach homes for sale because of one feature—the beach—but they stay for the many other rewards of owning a home in Manhattan Beach, California.
Browse MLS Listings for Manhattan Beach Real Estate
Homes for Sale in Manhattan Beach
September 28, 2023
Why Find A Home for Sale In Manhattan Beach?
Manhattan Beach offers quintessential beach living, with all the convenience and amenities of an upscale city. For those who truly want it all, there is no better place to call home than Manhattan Beach.
Family-Friendly Living In Manhattan Beach
With some of the South Bay's most well-funded schools and most popular parks, Manhattan Beach is an ideal place to raise a family.
Kids attend one of five neighborhood elementary schools – Grand View Elementary, Meadows Elementary, Pacific Elementary, Pennekamp Elementary, and Robinson Elementary. Manhattan Beach prides itself on being a safe community, and many kids walk to and from school regularly.
The city's only middle school, Manhattan Beach Middle School, has a reputation for excellence, and the only high school, Mira Costa High School, was recently ranked in the top two percent of public high schools in the country.
Features & Amenities of Manhattan Beach Real Estate
Manhattan Beach is an active city, and residents love to get out and about. In addition to two glorious miles of white sand beach, Manhattan Beach has a thoroughfare for joggers called the Green Belt that has parquettes equipped with exercise equipment.
Locals also like to take advantage of the city's 48 acres of park space – including the free summer concerts at Polliwog Park, the unique 100-foot exercise hill at Sand Dune Park, and the tennis courts at Live Oak Park.
The city also has a bustling Downtown area, clean and modern and always alive with people walking, shopping, or sharing a meal. In fact, the city is growing in popularity with foodies from all over the Los Angeles Area, as there has been a renaissance of new, chic, and top-notch restaurants. Downtown, there are also plenty of neighborhood cafes, casual bars, boutiques, and high-end shops.
The Manhattan Beach community is a good fit for people who work inland but want to relax by the ocean on evenings and weekends. With no traffic, downtown L.A. is less than a half-hour drive away; the Los Angeles International Airport just three miles north.
Manhattan Beach Real Estate Neighborhoods
Architecturally, Manhattan Beach real estate is a mixed bag. You'll find luxury dream homes, modest ranchers, mansions on sprawling lots, beach houses on highly exclusive parcels of land, and so much more. Whether you're looking for a luxurious beachside getaway or a comfortable place to raise a family, Manhattan Beach has something for you.
The city of Manhattan Beach is divided into six sections or neighborhoods, each different. The best section for you will depend on your wants and needs, ideal lifestyle requirements, and even your personality. But all Manhattan Beach neighborhoods are vibrant and desirable, offering wonderful California living.
The six primary Manhattan Beach neighborhoods are:
Manhattan Beach also has smaller sections, all distinct and sometimes crossing the boundaries of the larger neighborhoods. Downtown, The Strand, El Porto, and Martyrs are among the most popular of these communities, making them exclusive, competitive real estate destinations in Manhattan Beach.
To learn more about Manhattan Beach, check out our Neighborhoods page and be sure to watch our Manhattan Beach neighborhood videos.
Find Your Dream Home In Manhattan Beach
Manhattan Beach includes some of the most exclusive and luxurious homes in the world. As a result, it can be challenging to locate and secure your ideal property in Manhattan Beach. We recommend working with experienced local experts like those at The DOMO Group to help you navigate your real estate journey.
If you would like to connect with REALTORS who know the neighborhoods inside-out and can provide you with a competitive edge in buying or selling Manhattan Beach real estate, contact us now.