Manhattan Beach Preschool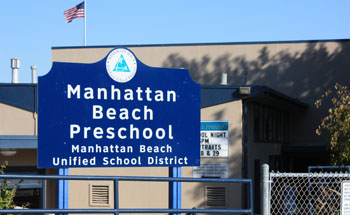 Parents with preschool-age children have several high-quality schools to choose from in Manhattan Beach, one of which is affiliated with the Manhattan Beach Unified School District.
The Manhattan Beach Preschool, located on 15th Street, caters to two- through five-year olds with a four-hour morning preschool class, an extended hour "preschool plus" program, and a program specifically for two-year-olds. In each case, scheduling is flexible.
The preschool works with parents to tailor each child's schedule to his or her needs. Staff at Manhattan Beach Preschool is hired by district staff on the basis of their credentials and experience in early childhood education. The preschool also has a nurse, plus access to special education teachers, speech-language pathologists, occupational and physical therapists, and a school psychologist.
Manhattan Beach Preschool has ample space for playing and large classrooms stocked with toys and educational materials. Its website markets its commitment to a "child-centered philosophy" and its focus on facilitating a child's development in every sense of the word – social, emotional, cognitive, and physical.
Another option is Manhattan Beach Nursery School, located on Nelson Avenue. Billing itself as a "parent particiatiption co-operative preschool," it offers three-hour morning classes Monday through Friday.
Manhattan Beach Nursery has a dedicated staff – a minimum of four at all times – who believe it's important to foster each child's unique talents but at his or her own pace.
It is a co-operative preschool, meaning it brings parents into the classroom and encourages them to interact and participate in their child's preschool experience. Parents find this to be helpful in honing their child-rearing skills and meeting other parents who end up embarking on the journey of parenthood alongside them.