Mira Costa High School in Manhattan Beach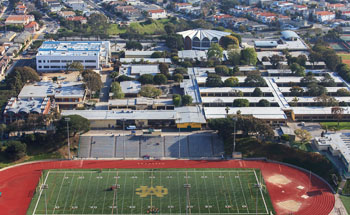 Located in the southern most part of East Manhattan Beach, Mira Costa High School ranks in the top two percent of public high schools in the country. Nationally, it is ranked 417th amongst nationwide public schools and 81st in the California system, making it a gold standard school, according to a rigorous comparative study undertaken by U.S. News.
Mira Costa, known locally as Costa, is home to some of the area's best academic and athletic programs. Generally, in a student body of over 2,300, the average class size remains close to 30 students.
Mira Costa High School has some of the best public high school teachers in the South Bay and, indeed, in Los Angeles. For instance, a U.S. History teacher at Costa was recently named one of the county's Teachers Of The Year.
Mira Costa offers a wide range of Advanced Placement courses, in which over 58 percent of its student population participate, and substantial career guidance and direction for older students.
Manhattan Beach Unified School District is one of the wealthiest in the area, thanks in large part to the support of Manhattan Beach Educational Foundation, a non-profit organization founded by parents that manages to raise over $4 million annually for Manhattan Beach schools.
Because of this generous funding, Manhattan Beach's high school is able to offer the best of the best – academic support, career counseling, athletic programs, and after-school activities.
Students can choose to participate in a wide range of extra-curricular and educational programs, including Beach Cities Robotics, choir, marching band, orchestra (which has performed at Wald Disney Concert Hall and Carnegie Hall), drama, dance, Key Club, and Leo Club, among others.
Alternatively, they can choose to participate in Model United Nations, write for the award-winning newspaper, lay out the yearbook, or create broadcasts for the Mustang Morning News. Costa athletics stand out regionally for their high-quality coaching and winning records.
The Mira Costa campus is clean and well maintained, with plenty of gathering space for students. It has even featured on TV as a backdrop for such popular shows as The O.C. and CSI:Miami.
For a top-notch education, Manhattan Beach's only high school is an ideal place to send your teenagers.
For official information, visit the Mira Costa High School official website or the Manhattan Beach Unified School District.