Pacific Elementary | Manhattan Beach, CA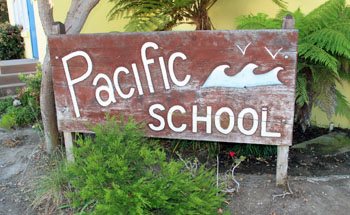 Located in the heart of the Tree Section, Pacific Elementary is a California Distinguished School with a focus on interaction and relationship between teachers and students.
Its teacher to student ratio is 1:21, which is 40 percent higher than the national average for public elementary schools. Pacific Elementary caters to grades kindergarten through five.
Located at the intersection of Pacific Avenue and Manhattan Beach Blvd., it is technically located in Manhattan Beach's Tree Section, but students from the city's other sub-districts might also attend.
Apart from its commitment to academic excellence, Pacific Elementary offers a range of extra-curricular programs that encourage students to be creative, develop leadership skills, and respect themselves and others.
Older students can opt to participate in student government, a library lunch brunch, one of Pacific's two student-run publications, or Panther Buddies, a program that pairs older student mentors with younger students. Any student can choose to be more involved by way of science and technology labs, art competitions, or historical role play programs, among other recreational and educational options.
Pacific Elementary is dedicated to teaching students about healthy, sustainable living, and has a variety of "green" initiatives, including an on-campus vegetable garden and an awareness-raising campaign called Grades of Green.
The staff and teachers encourage students to be active, and Pacific provides volunteer chaperones who walk students to and from school.
The school's principal has used the word 'outstanding' to describe parent involvement and support. In a letter to parents, she noted that on any given day, she can expect to find over 30 volunteers helping out in the school's classrooms.
The Pacific Elementary PTA works closely with the Manhattan Beach Educational Foundation (MBEF), which raises millions of dollars a year to fund extra-curricular programs in Manhattan Beach schools and keep their educational standards high.
If you're in the Tree Section, you can have utmost confidence in Pacific Elementary to provide your child with a quality education.
For official information, visit the Pacific Elementary official website or the Manhattan Beach Unified School District.