Pennekamp Elementary | Manhattan Beach, CA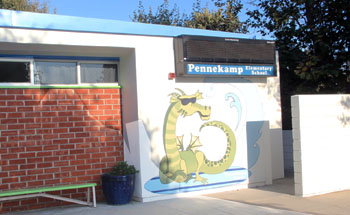 Located in East Manhattan, Pennekamp Elementary was given a 10 out of 10 rating from the national nonprofit organization GreatSchools. The L.A. Times reported Pennekamp's unofficial Academic Performance Index (API) rank as a 10 out of 10.
The elementary school on Rowell Avenue was named a California Business for Education Excellence Honor Roll School, and its test scores are consistently higher than the state average.
Pennekamp aims to provide an excellent education, both academically and socially. Faculty and staff pride themselves on their commitment to fostering personal relationships with students and parents. The typical class size for kindergarten through the third grade is just over 20, and about 30 for grades four and five.
About 600 students attend Pennekamp. Most of them live in the Mira Costa Section of East Manhattan Beach.
Parent involvement at Pennekamp is high, and many parents help out to fundraise for enrichment programs and volunteer to work in classrooms.
Because of their efforts and funding from the district and Manhattan Beach Education Foundation, the school has a computer lab, a library with a librarian, daily P.E. activities, and music and arts programs. It offers students the opportunity to take up a range of extracurricular activities related to arts and crafts, science, sports, and academics. Students can also participate in band, student council, book club, and even tinker with guitars and pianos in the Sound Studio.
Like most Manhattan Beach schools, Pennekamp maintains a focus on environmental awareness and education, and runs programs like Growing Great Garden, a real garden on campus where students can grow, harvest, and eat their own produce.
It is a school that excels academically and recognizes the value of creating relationships between parents, administrators, teachers, and students. Pennekamp will provide your kids with a top-notch quality education.
For official information, visit the Pennekamp Elementary official website or the Manhattan Beach Unified School District.